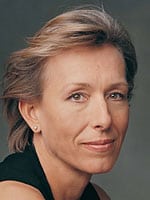 Martina Navratilova
Martina holds 167 singles titles, more than any man/woman player; won at least one Tour event a year for 21 consecutive years; holds 177 doubles titles, including seven won in 2003 and one won in 2004; has won singles and doubles titles at same event 84 times to lead all players; was ranked No. 1 for a total of 331 weeks on nine different occasions; 156 consecutively from June 14, 1982-June 9, 1985, second only to Graf's 1987-90 record 186 weeks; in her career, Navratilova defeated Chris Evert 43 times (43-37), Billie Jean King nine times (9-5), Tracy Austin 21 times (21-13), Evonne Goolagong 15 times (15-12), Hana Mandlikova 30 times (30-7), Andrea Jeager 11 times (11-4), Steffi Graf nine times (9-9), Gabriela Sabatini 15 times (15-6), Arantxa Sanchez-Vicario 12 times (12-3) and Monica Seles seven times (7-10); Her Golden Run from December 21,1981 through January 24, 1987 (61-month period) saw her win 71 titles, 12 of 17 Grand Slam singles titles (including six straight) and 432 of 446 matches – a 0.969 win-percentage, losing only 14 matches to nine players: Hanika, Shriver. Evert (four times), Horvath, Mandlikova (three times), Sukova, Kohde-Kilsch, K. Jordan, Graf; through the next three years, would lose only to a further four players: Sabatini, Zvereva, Garrison and Neiland; her doubles record with Shriver was unprecedented: they won their 79th doubles title together at the 1992 US Hardcourts; won 21 Grand Slams together between 1981-89; holds record of 109 consecutive doubles matches won, dating from April 24, 1983 to July 6, 1985.

Bud Schultz
Bud Schultz is a graduate of Bates College where he was a three time All-American in tennis. After a year of graduate school at Boston University he started his professional playing career in 1982. With wins over 5 top 10 players and a career high ranking of#39 in the world, he retired at the age of 29 to take the position of Director of Tennis and Head Pro at the historical Longwood Cricket Club in Brookline, MA. Bud continued his association with professional tennis by coaching such players as Ivan Lendl, Pam Shriver, and Greg Rusedski; all top ten in the world. He completed a Masters Degree in Sports Management at the University of Massachusetts in Amherst.
In 1995, Bud took on the position of Manager and Head Pro at The Badminton and Tennis Club in Boston. In 1998, while on the Board of the Boston Tennis Council, an umbrella organization of small city tennis programs, Bud and a friend from his playing days, Ned Eames, created Tenacity; a city wide tennis organization that now provides tennis and academic support to over 5000 children. In just 3 years Tennis Week Magazine voted Tenacity the fourth best urban tennis organization in the country. Bud has competed nationally in the 35's age division, winning two national titles in singles and in doubles with Ned Eames.
In 2001 Bud and his wife Elaine purchased the Cohasset Tennis Club, Inc. He was elected to the New England Tennis Hall of Fame in 2002. Bud lives in Sudbury, Mass. With Elaine and his three children, Christo (18), Luke (17), and Hailey (14). His son Christo is currently ranked top 20 in the country and will be attending Harvard University in the fall of 09.

Jan-Michael Gambill, 31, Spokane, WA
Selected in the first round on the 2008 WTT draft (third overall)
One of the top American tennis players over the last decade, Gambill will bring strength in both singles and doubles this year for the Lobsters. Gambill has won eight ATP tour events (three singles and five doubles), including his first title in Scottsdale in 1999, when he beat Pete Sampras, Andre Agassi and Lleyton Hewitt in the same week. The following year, he had his best Grand Slam showing at Wimbledon, reaching the quarterfinals (which included a Centre Court victory over Hewitt) before falling to eventual champion Sampras. He peaked at No. 14 in the world in singles in 2001, and No. 23 in doubles in 2002. Gambill was the top-pick in the 2007 WTT draft by the Houston Wranglers, and finished fourth among the league's men in singles winning percentage (.535). In 2000, Gambill was named by People Magazine as one of the "50 Most Beautiful People in the World."

Stephanie Foretz
James Auckland
Raquel Kops-Jones, 25, Fresno, CA
Selected in the fourth round of the 2008 WTT draft (39th overall)
Kops-Jones is best known for her doubles work, as evidenced by her 10 ITF doubles titles, and her No. 90 world ranking in women's doubles. Long before she turned pro, Kops-Jones started collecting doubles crowns, culminating in the 2003 NCAA women's doubles title for the University of California-Berkeley, which she won with former Lobster Christina Fusano. In fact, Kops-Jones and Fusano have teamed for several doubles titles as pros, including Quebec City in 2007. But Kops-Jones has an impressive singles resume, as well, with an ITF title and accolades as USTA's Circuit Player of the Week back in 2005.